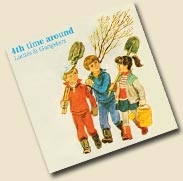 NEWS
03.06.2013
Guten Morgen! Lange wars ruhig hier, 4th Time Around machen grad etwas Pause, kommen aber für eine Show im Sommer zurück: 27.6.2013! Vitra Campus, Weil am Rhein!
Hello all! 4TA have a break, but we come back for one summer show: 29.6.2013, Vitra Campus, Weil am Rhein. Come with us!
15.06.2012
Hello! Israel war fantastisch, wir kommen wieder, danke schön, lechajm! Vorerst aber wieder Schweizerisches Sommerschaffen: In Winterthur, beim Schlauen Bauer, gerne wieder im schönen Luzern, kurz über die Grenze nach Docelles in den Vogesen - und ab nach MONTREUX!
Back from Israel & into the heat: Sommershows are waiting. MONTREUX / Winterthur / Lucerne / Docelles in France / Openair Schlauer Bauer. Come with us.
01.05.2012
Shalom! 4th Time Around gehen auf grosse Auslandreise - ISRAEL ruft! Im Heiligen Land spielen 4th Time Around im Mai acht Konzerte, von Jerusalem bis Tel Aviv, vom Negev bis rauf nach Galiläa. Grosse Freude! Für Details - klick "shows". - Wir danken der Suisa-Stiftung für Musik für den Beitrag an die Defizitdeckung sowie dem Magazin "tachles" für die Medienpartnerschaft.
Amazing: 4th Time Around are touring Israel this month! Eight shows in Jerusalem, Tel Aviv, Nazareth... you name it! Check "shows" for details. Thanks for your help and partnership, Suisa foundation for music & magazine "tachles".
24.04.2012
MONTREUX! 4th Time Around spielen am 1. Juli 2012 auf der Music In The Park Stage am Montreux Jazzfestival. Gute Güte. Über uns nur noch der Himmel!
Montreux! 4th Time Around make a dream come true and will play at the Montreux Jazz Festival on the Music In The Park Stage. July 1, 8 pm. Wow.
16.04.2012
Kam gerade rein: übermorgen Mittwoch, 18.4., spielen 4th Time Around zusammen mit Brooke Fraser in der Schüür Luzern. 20 Uhr! Alle da!
Und nochmals ein Hinweis für die Nordwestschweizer Neighbourhood: diesen Samstag, 21.4., im Marabu Gelterkinden.
Breaking News: This wednesday, april 18, 4th Time Around have the pleasure to support the wonderful singer Brooke Fraser from New Zealand at Schuur Lucerne. 8 pm! Come!
And don't forget, Basel guys: saturday, april 21, 4th Time Around enter the Marabu in Gelterkinden!
01.03.2012
Verehrtes zugewandtes Publikum, nachdem wir den Februar mit all seinen versuchenden Fährnissen wohl überstanden haben, harren wieder grosse Dinge. Wir fahren ins reiche Zug (22.3), ins verwunschene Hinterrüti (24.3.), zu den Kummerbuebe ins Aarauer Kiff (30.3.) und später im Frühling suchen wir auch mal wieder die Heimatregion heim - diesmal das Oberbaselbieter Gelterkinden, you name it: Marabu (21.4.)! Das soll nur ein Prolog zu weiteren ruhmreichen Kapiteln der nahenden Zeit sein, aber mehr dazu ein ander Mal.
Dear comrades, we survived carnival once more and get ready for the next nights of haunted hoorayism: Come and see 4th Time Around in Zug (22.3.), Hinterrüti (24.3.), at Kiff Aarau with the fabulous Kummerbuebe (30.3.) and finally again in the Basel region: at Marabu Gelterkinden (21.4.). Even greater missions will come soon. Feel free to follow.


19.01.2012
Inshallah, Damen und Herren, Ladies & Gangsters, Spitzen der Gesellschaft und subversive Elemente, Banker und Punker und alle andere, die unseren steinbeschwerten Pfaden folgen: Es ist 2012, und wir sind noch da. Wir hatten einen wahrlich euphorischen Jahresbeginn in der Grabenhalle St. Gallen, im Kreuz Solothurn und erst recht in der Mahogany Hall Bern - an alle, die da waren: Maximum Respect! Seither lecken wir unsere Wunden, freuen uns auf kommenden Mittwoch, 25.1., wenn wir in der Rockwoche der Roten Fabrik für Mariah Taylor aus dem stilvollen Haus Saddle Creek eröffnen dürfen, und ansonsten: bleibt uns treu, es wird viel passieren in nächster Zeit. Stay rude, stay handsome!
Hello dear Ladies & Gangsters, we survived the beginning of 2012 so far... hope you're still with us. Respect to everybody who joined us in St. Gallen, Solothurn and Bern - if you missed these three nights, come with us to Zurich next wednesday, january 25, and sing with us and Mariah Taylor. Stay young & wild, it will be a great year.
20.11. 2011
Schön wars zum Jahresabschluss im Albani Winterthur - danke fürs Kommen, Kameraden und Kombattanten. Weiter gehts im Januar in St. Gallen, Solothurn und Bern sowie, da freuen wir uns: In der Roten Fabrik Zürich. 2012, das wird was.
People, thank you for joining us at Albani Winterthur a few days ago. We had a great night celebrating the end of 2011 for 4th Time Around - see you next january in St. Gallen, Solothurn and Bern - and at the Rote Fabrik in Zurich. Oh boy.

14.09. 2011
News, Mann! 4th Time Around haben heute "Ashes & Heart", die zweite Radiosingle ihrer Goldgrube "Ladies & Gangsters", veröffentlicht. Danke schon mal an den schönen Support von Irascible. Dazu gibts unseren ersten feschen Videoclip - auch hier: Dankeschön an Benjamin Aellen. Und wenn ihr nächste Woche in Le Locle, Nyon, Yverdon oder Bern unterwegs seid, schaut vorbei und trinkt mit uns. Heimat ist da, wo der Kopf auf die Theke sinkt.
People, great news: 4th Time Around release today their second radiosingle from "Ladies & Gangsters" - please find here the video for "Ashes Heart". And if you feel like going to Le Locle, Nyon, Yverdon or Bern next week - go ahead, we'll be there too.
3.09. 2011
4th Time Around hatten enthusiastisches Vergnügen in Berlin und Hamburg - dank der Astrastube, dank dem Goldenen Pudel und dank dem einzigen Bier Deutschlands, das in der Herstellung regelmässig durch die Hygienestandards fällt. Adorable! Diesen Monat gehts nun in ganz andere Mentalitätsfestungen - Le Locle, Nyon, Yverdon, you name it: ROMANDIE! 4th Time Around freuen sich auf Absinth, den Genfersee und die Trutzburg zu Grandson. Kommen? Check "shows".
After Berlin & Hamburg, after Astrastube, Golden Pudel and that vicious beer that always failes the german hygienic standard, after so much fun we somehow recovered enough for another road trio. This month: Tour de Romandie. Nyon, Le Locle, Yverdon. And well, Bern. Not really francophone, but you can't avoid compromises. Check "shows".
21.08. 2011
Die Basler Tage sind vorerst vorüber - danke an alle, die uns den wunderbaren Abend vor Sinéad O'Connor bereitet haben - danke Act Entertainment & Thomas Dürr, und danke an die honorable Dorfgemeinschaft. Wir kriechen nun zurück ins den Schatten und kommen nächste Woche für Deutschland wieder raus. Man sieht sich in Berlin & Hamburg.
Thanks Act Entertainment & Thomas Dürr for the giving us the pleasure to support Sinéad O'Connor's show. Memories Are Made Of This! 4th Time Around are leaving Basel now for a while and are heading north - see you in Berlin and Hamburg.
8.08. 2011
Ladies & Gangsters, seid umarmt und bedankt für den enthusiastischen Abend auf dem Floss Basel. Memories are made of this! Herzlichen Dank dem RFV, Kapitän Krattiger und Heinz Darr - und dem Radio Virus, das am Dienstag, 9. August ab 17 Uhr das Konzert nochmals ausstrahlt.
Nun gehen wir zurück in den Keller - wir sehen uns am 18. August am Summerstage Festival Basel vor Sinéad O'Connor wieder.
Ladies and Gangsters, thank you very much for floating with us on the river rhine. Magic! We'd like to thank RFV as well as Captain Krattiger and Lieutenant Darr («Im Fluss») for inviting us. And a special thank you goes out to the friendly crew of Radio Virus (live broadcast - for those who missed it: tuesday, august 9, 5 pm here!)
Next gig: unplugged, support for Sinéad O'Connor. Summerstage Festival, Basel. August 18. 8pm.
8.07.2011
Thank you all! Nun denn, Ihr habt es so gewollt: 4th Time Around wurden für den 6. August ins Programm vom Basler Kulturfloss 2011 gehievt, und dann wird das noch live auf Radio Virus übertragen. Wir freuen uns und verweisen gleich noch auf weitere Konzerte diesen Herbst - siehe "shows".
Thank you! You voted 4th Time Around for august 6 on the Kulturfloss Basel - the show will be broadcasted live on Radio Virus. Check "shows" for further - well - shows.

25.06. 2011
4th Time Around sind zurück aus dem Frühsommerloch. Schön wars' dort. Jetzt aber wieder ACTION!
Kulturfloss: Nun fangen wir auch damit an - VOTE! 12 Bands stehen im Rennen für vier Abende auf dem unsinkbaren Basler Kulturfloss im Rhein. Sollen 4th Time Around eine dieser vier werden, drückt hier aufs richtige Knöpfchen, Tag für Tag, bis zum 4. Juli: bitte hier wählen. Und wer Ende August grad in Hamburg oder Berlin ist, soll uns gerne besuchen. Alle Daten hier unter SHOWS.
4th Time Around left their somnanbulic state and are back for best. Eat this:
Kulturfloss: Love being democratic? Then vote: Four out of twelve groups will play on Basel's Kulturfloss this summer. Day by day, until July 4. Thanks! And whoever will be in Berlin or Hamburg this august, check "shows" and come!
01.05. 2011
DANKE! An alle, die gekommen sind. Und die, die von draussen zugehört haben. Und die, die erst danach kamen und denoch unsere Schultern klopften. Und einen ganz besonderen Dank an unsere Gäste auf der Bühne. L.O.V.E.
THANK YOU! Thanks to everybody who made this night so unforgettable. Be blessed, be kissed.
25.04. 2011
Memento - In fünf Tagen, am 30.4. taufen 4th Time Around ihre Fanfarenkollektion "Ladies & Gangsters" im Parterre Basel. Mit dabei: All die Gäste auf dem Album: Bläser, Streicher, Stimmen. Kommet, kommet.
Don't forget: In five days, on April 30, 4th Time Around present their new record "Ladies & Gangsters" at Parterre Basel. Come all ye faithful - all the lovely guests being heard on the record will join us too.
20.04. 2011
Sinéad - Am 18. August treten 4th Time Around als Support der irischen Sängerin Sinéad O'Connor auf der Kunsteisbahn St. Margarethen in Basel auf. Grosse Freude.
Nothing compares to this - on August 18 4th Time Around will open the irish singer Sinéad O'Connor's show in Basel. Lovely.
14.04. 2011
Unsere Single "Someone" läuft nicht nur täglich bei DRS3, sondern auch bei Radio Rumantsch, Radio 1 Zürich und Radio Basilisk und was wissen wir nicht noch wo.
Our first single "Someone" rocks DRS3 daily and several private radio stations all over Switzerland such as Radio Basilisk, Radio Rumantsch, Radio 1 Zurich.
08.04. 2011
HABEMUS ALBUM! Ab heute im Plattenladen, Multimediastore und Einkaufszentrum eures Vertrauens: "Ladies & Gangsters"! Gehet hin und bescheret euch!
TODAY! OUT! "Ladies & Gangsters", 4th Time Around's night serenade. Shop till you drop!
02.04. 2011
Ab morgen Montag: 4th Time Around mit "Someone (Should Save This For Another World)" in der Tagesrotation auf DRS 3! Danke für die gestrige Nacht, ihr wunderbaren Menschen von Schönenbuch bis Ammel und von der Rhybrugg bis ans Spaaletor. You're the humble and the just!
Thank you for yesterday, Basel & BScene & whoever shall be embraced for enlightning our souls and warming our hearts. Don't miss: From tomorrow, "Someone (Should Save This For Another World)" will be heard daily on DRS3.
20.03. 2011
Wir verneigen uns – danke für die Abende in Zürich und Luzern. Ein warmherziger Prolog für die Dinge, die da kommen. 4th Time Around ziehen sich zurück in die Klause und kommen an der BScene wieder hervor.
Honorably yours – thanks a lot for being there. Zurich and Lucerne truly touched our hearts. CU at BScene.
14.03. 2011
Noch drei Tage – Am 17. März im La Catrina Zürich und am 18. März im Südpol Luzern setzen 4th Time Around erstmals an zur Reconquista.
Three more days – on march 17 at La Catrina Zurich and 18 at Sudpol Lucerne 4th Time Around start to go for the unknown.
09.03. 2011
Plattentaufe – Nun ist es an der Zeit: 4th Time Around taufen ihr drittes Album "Ladies & Gangsters" am 30. April 2011 im Parterre Basel. Kommt und klatscht!
New Record – 4th Time Around are ready for the next round and present their new record "Ladies & Gangsters" at the lovely venue Parterre in Basel. Come and see.
06.03. 2011
Basel I – Der Basler Rockförderverein hat für die nächste Ausgabe des Swiss Music Guide einen Sampler zusammengestellt. 4th Time Around sind mit ihrer Untergangsfanfare "Someone (Should Save This For Another World)" dabei.
Basel II – 4th Time Around treten am 1. April an der BScene 2011 in der Kaserne auf. Mehr hier.
Compilation & Concert – Basel's Rockförderverein will release a compilation introducing the city's music of 2011. The compilation will be enclosed to the annual Swiss Music Guide We are a part of it with our song "Someone (Should Save This For Another World)". Plus: 4th Time Around are invited to this year's BScene Festival on April 1 . Fun.

01.03.2011
Neue Heimat – 4th Time Around bringen ihr neues Album "Ladies & Gangsters" beim Luzerner Label HRP Records heraus, für den Vertrieb sorgt die ehrenwerte Gesellschaft Irascible. Veröffentlichung: 8. April 2011. Wir freuen uns auf neue Absatzmärkte, Cashflow und Renditesteigerung.
New residence – "Ladies & Gangsters", 4th Time Around's new record, will be released by HRP Records, Lucerne, and distributed by Irascible. Date: April 8, 2011. Thanks.